FAQs
Oil
What Type of Motorcycle Oil do you Recommend ?
We recommend using Japanese Automotive Standards Organization approved motorcycle oil. JASO-MA and JASO-MA2 approved oils are designed for single unit engines where the wet clutch, gearbox, and engine used the same oil. Do not use automotive oil, it has too many friction modifiers and can cause clutch slippage, and gear box pitting. Reference your service manual, it will provide change schedules, viscosity, and the correct amount of oil to use. (On the back of the oil container there will be a JASO box with individual certification number)
Automatic Transmission Fluid can be used with bikes that use separate oils for the engine, clutch and gearbox. Alto clutches will operate properly with any of the ATF fluids on the market. (Ford "Type F" fluid will give a more positive clutch engagement, and is more suitable for competition riding.)
Worn or damaged clutch components will also affect clutch performance, thoroughly inspect the clutch assembly.
Alto motorcycle clutches can be used in a "Wet or Dry" application. For wet applications soak clutches for 10 to 15 minutes before installation. For moist application soak clutches for 10 to 15 minutes, wipe them off with lint free cloth before installation. For dry applications install right out of the box.
Steel Plates
Do the Turbulator Steel Plate holes have to be aligned?
The Turbulator holes in the Alto steel plates will help prevent parasitic drag. During installation, they do not require any alignment to function properly.
Motorcycle
Can Alto Motorcycle plates be run wet or dry?
Alto currently has 3 different Motorcycle friction linings, Red Eagle, Aramid, and Carbonite, all of these linings can be operated in the Motorcycle clutch basket wet or dry.
If the clutch is a "bone dry" application, (like most belt drives), do not soak the frictions, run them dry.
If the clutch is partially submerged in fluid, soak the frictions and steels in the fluid for 20 to 30 minutes minimum, before installation.
If the clutch is "moist", (fluid from the primary case is lightly saturating the clutch plates), soak the frictions and steels in the primary fluid for 20 to 30 minutes minimum, before installation.
When installing the Anti-Rattle steel plate, which way does the ball and spring face?
When looking at the clutch basket, the spring and ball face the front of the bike :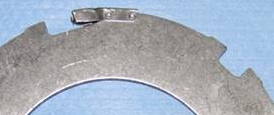 Heavy Spring
What is the Harley Davidson Big Twin Heavy Duty Clutch Spring 095767HD?
The Alto Harley Davidson Big Twin heavy duty clutch spring was developed to eliminate clutch slipping, mostly in 5th gear. It is 20% stronger than the Original Equipment spring supplied in the stock configuration.
Keep in mind the effort to compress this spring will be more than the stock clutch lever pull.
It is equivalent to the Screaming Eagle spring from Harley Davidson..